After marrying five years ago in a private summer wedding ceremony, Oakland at-large City Councilwoman Rebecca Kaplan and Pamela Rosin divorced last fall. The couple had been together since 2012 after first meeting at Oakland's East Bay Church.
Viewing 1 thru 12 of 331 Stories
For the first time, all five cities in Napa County have agreed to fly the rainbow flag in honor of June being Pride Month.
Three more Bay Area cities are now flying the rainbow flag for the first time in honor of Pride Month, as is the government office for Alameda County.
Lesbian at-large Oakland City Councilwoman Rebecca Kaplan's election in January as president of the legislative body made headlines for being the first time an out LGBT person had served in the leadership role.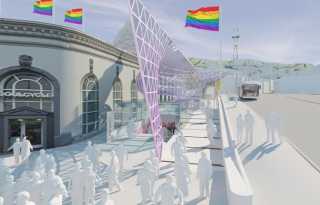 Adding to the issues proponents behind overhauling Harvey Milk Plaza in San Francisco's Castro district face is now opposition to the project from a major LGBT group in the city.
San Francisco officials are expected to designate the city's fourth LGBT historic site next week when the Board of Supervisors votes to landmark 524 Union Street.
Gay Democratic presidential candidate Pete Buttigieg was one of several White House contenders who received an enthusiastic response from delegates at last weekend's California Democratic Party convention in San Francisco.
The city councils of Dublin and Tracy voted Tuesday night to fly the rainbow flag in recognition of June being Pride month.
Democrats bidding to be their party's 2020 presidential nominee hawk Pride-branded gear to their supporters, as does the current occupant of the White House.
This June marks the 10th year since Vallejo became the first city in Solano County to recognize June as Pride Month.
Following a week of intense backlash from across the country, a city councilman in the East Bay city of Dublin has changed his mind about flying the LGBT community's rainbow flag during June, which is Pride month.
With Mayor London Breed facing little opposition, so far, in her bid for a full four-year term this November, the race for the District 5 supervisor seat has become a proxy fight over the city's housing and homeless policies.
San Francisco International Airport Wednesday released a new image of what the exterior signage for the Harvey Milk Terminal will look like. At the direction of City Hall, the aviation facility is renaming Terminal 1 in honor of the late gay rights leader
Viewing 1 thru 12 of 331 Stories