Lesbians Who Tech + Allies is retooling its 2020 San Francisco summit as it remains determined to stay in the city's LGBT Castro district amid growing popularity.
Viewing 1 thru 12 of 400 Stories
For the first time, all five cities in Napa County have agreed to fly the rainbow flag in honor of June being Pride Month.
Three more Bay Area cities are now flying the rainbow flag for the first time in honor of Pride Month, as is the government office for Alameda County.
Just in time for Pride Month, the National Park Service has released a free downloadable Pride Guide.
It is said some are born to greatness while others have greatness thrust upon them. There is a third group, however, who are born to nothingness but achieve greatness through perseverance, purposeful focus, and gut-checking grit.
San Francisco officials are expected to designate the city's fourth LGBT historic site next week when the Board of Supervisors votes to landmark 524 Union Street.
More than 100 people crowded into the Castro's Flore on Market recently, anxious to shake hands with Marisa Rodriguez, the newly appointed director of the city's Office of Cannabis.
A memoir by the late Gilbert Baker, co-creator of the rainbow flag, will be featured at a launch party Tuesday, June 11, from 5:30 to 7:30 p.m. in the Koret Auditorium at the main San Francisco Public Library, 100 Larkin Street.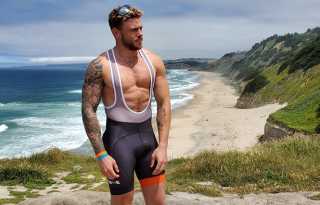 The local LGBT sports world got Pride Month off to a great start, with the Oakland A's celebrating their Pride Night June 1 and more than 2,000 riders setting out the next day for the annual AIDS Life/Cycle trek to Los Angeles.
In conjunction with Pride Month, New York City has announced a future monument dedicated to Sylvia Rivera and Marsha P. Johnson.
Democrats bidding to be their party's 2020 presidential nominee hawk Pride-branded gear to their supporters, as does the current occupant of the White House.
This June marks the 10th year since Vallejo became the first city in Solano County to recognize June as Pride Month.
The San Mateo County Fair will be rocking when Queen tribute band Queen Nation performs Monday, June 10, at 7:30 p.m.
Viewing 1 thru 12 of 400 Stories