The San Francisco LGBT Pride Celebration Committee announced three community grand marshals for the 2019 San Francisco Pride parade that were selected by the public.
Viewing 1 thru 12 of 336 Stories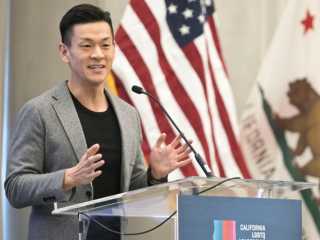 Rather than pursue legislation this year to ban conversion therapy with adults, gay Assemblyman Evan Low (D-Campbell) is instead looking at introducing a resolution that would explain why the practice is harmful for people 19 years of age and older.
LGBTQI and indigenous activists continue to seek answers for the 2018 murder of bisexual Rio de Janeiro City Councilwoman Marielle Franco.
American Heart Association journal editor fired for anti-gay comments about Louisville Ballet; California high school students sue over yearbook quotes; and an LGBT Asian group files amicus brief in sanctuary state lawsuit.
At historic summit for LGBT officials in California, gay Congressman Mark Takano of Riverside highlighted the introduction of a sweeping federal LGBT rights bill and the increase of out public officials in more suburban and rural jurisdictions.
The Castro Merchants is set to elect real estate agent Masood Samereie as its next president when it meets April 4. He has been selling property in the city's LGBT neighborhood since 2003.
Castro businesses are planning this year's "Windows for Harvey" display, timed for May 17-26, to honor the birthday of slain supervisor Harvey Milk, and interested artists can still sign up, the Castro Merchants organization said in its recent newsletter.
When I was growing up, I had a secret that was so terrible, so shameful, I knew I could never let anyone ever know: I was transgender.
Gay former Santa Clara County supervisor Ken Yeager has ruled out seeking a state Senate seat in 2020 in order to helm and grow a foundation focused on the needs of the South Bay's LGBT community.
LGBT seniors and their advocates will descend on Capitol Hill this week to lobby members of Congress.
The Gay Asian Pacific Alliance will hold "Prelude: Songs and Stories from the Heart" Saturday, March 23, from 8 to 9:30 p.m. at St. Matthew's Lutheran Church, 3281 16th Street in San Francisco.
The number of out judges on California state courts continues to increase, with the latest demographic data showing there were at least 62 LGBT judges as of December 31, 2018 out of a total of 1,743 members of the bench.
A week ago, I wrote that lesbian tennis great Martina Navratilova was wrong when she said transgender women competing in women's sports were cheating, that not even she believed that.
Viewing 1 thru 12 of 336 Stories