A restaurant space in San Francisco's North Beach neighborhood is on its way to becoming the city's fourth LGBT historic site. It is believed it would be the first landmark in the country to focus on an early queer eatery.
Viewing 1 thru 12 of 2742 Stories
When a rainbow flag was raised Monday over the California Capitol, both Governor Gavin Newsom and Equality California, the statewide LGBT advocacy organization, claimed it marked the "first time ever" it had flown over the building.
The U.S. Supreme Court on Monday side-stepped yet another case pitting religious beliefs hostile to LGBT people against human rights laws that seek to protect them.
After marrying five years ago in a private summer wedding ceremony, Oakland at-large City Councilwoman Rebecca Kaplan and Pamela Rosin divorced last fall. The couple had been together since 2012 after first meeting at Oakland's East Bay Church.
A San Francisco Board of Supervisors panel threw its support Monday behind the creation of an LGBTQ cultural district in the city's Castro neighborhood.
For the first time, all five cities in Napa County have agreed to fly the rainbow flag in honor of June being Pride Month.
A federal appeals panel in Seattle ruled Friday that President Donald Trump's ban on transgender people in the military "treats transgender persons differently than other persons," but it did not reinstate an injunction against enforcement of that ban.
Three more Bay Area cities are now flying the rainbow flag for the first time in honor of Pride Month, as is the government office for Alameda County.
Lesbian at-large Oakland City Councilwoman Rebecca Kaplan's election in January as president of the legislative body made headlines for being the first time an out LGBT person had served in the leadership role.
Until recently, LGBT Americans regularly suffered harassment, abuse, and worse at the hands of law enforcement, an oppression justified by religion and criminalized by the government.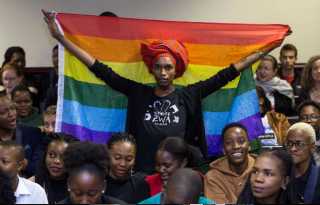 The high court of Botswana Tuesday overturned anti-gay sections of the country's penal code that criminalized homosexuality for more than a century.
The U.S. Preventive Services Task Force released a recommendation Tuesday, calling on health care providers to offer PrEP to men and women at high risk of acquiring HIV.
A Fresno County Superior Court judge Tuesday issued a tentative ruling against a trans barista in her lawsuit against Starbucks.
Viewing 1 thru 12 of 2742 Stories