Advertising information for Inside Pride, the official magazine of San Francisco 2019
Viewing 1 thru 12 of 288 Stories
When a rainbow flag was raised Monday over the California Capitol, both Governor Gavin Newsom and Equality California, the statewide LGBT advocacy organization, claimed it marked the "first time ever" it had flown over the building.
The U.S. Supreme Court on Monday side-stepped yet another case pitting religious beliefs hostile to LGBT people against human rights laws that seek to protect them.
A San Francisco Board of Supervisors panel threw its support Monday behind the creation of an LGBTQ cultural district in the city's Castro neighborhood.
For the first time, all five cities in Napa County have agreed to fly the rainbow flag in honor of June being Pride Month.
A federal appeals panel in Seattle ruled Friday that President Donald Trump's ban on transgender people in the military "treats transgender persons differently than other persons," but it did not reinstate an injunction against enforcement of that ban.
SF attorney files claim against U.S. Department of Homeland Security over the death of trans asylum seeker Johana Medina Leon
A developer is seeking permission to demolish the brick building that for years had housed Sparky's Diner on Church Street in San Francisco's Castro district in order to build housing above ground floor retail.
Organizers of the 2022 Hong Kong Gay Games announced this week they will offer 36 sports in the quadrennial LGBT sports festival.
Having weathered more than a year of bureaucratic delays, work will begin this month on Eagle Plaza, the world's first leather-themed public plaza.
As Pride Month activities and celebrations continue, the apartment building at 324 Larkin Street in San Francisco will be dedicated as the Gilbert Baker Rainbow Flag Apartments Tuesday, June 11.
At a Wednesday night San Francisco Pride board meeting, current and former Google employees joined with LGBTQ activists in demanding that Google be ousted from the 2019 Pride parade and celebration.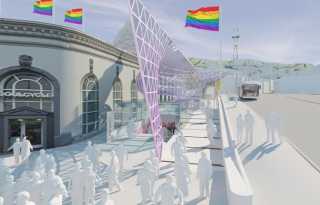 Adding to the issues proponents behind overhauling Harvey Milk Plaza in San Francisco's Castro district face is now opposition to the project from a major LGBT group in the city.
Viewing 1 thru 12 of 288 Stories