Settle in for autumn's end and December's arrival, as arts, nightlife and community events thaw out.
Viewing 1 thru 12 of 275 Stories
The Queen of Bounce will share stories from his new book, 'God Save the Queen Diva.' The New Orleans musician and reality show star will chat with hosts of bookstores nationwide, from Philadelphia, to Tulsa, Austin, Fairfield and Los Angeles.
Following the success of his debut feature, 'God's Own Country,' writer/director Francis Lee's 'Ammonite' is definitely worth watching, primarily for the incandescent performances from Kate Winslet and Saoirse Ronan.
IN 'Uncle Frank,' Alan Ball's second full-length feature, Peter Macdissi plays Walid, the partner of Frank (Paul Bettany). Both warily travel from Manhattan to the deep South for a family funeral. Macdissi discussed his work on the film.
What do you do when your neighbor is a famed local costume designer? If you're Daniel Navarro, you make a film about him. In 'My Neighbor, Miguel,' the life and creations of gay Latino designer Miguel Gutierrez gets a well-deserved intimate portrait.
Autumnal fun may not include large gatherings over dinner (hey, your decision), but you can burn of some calories by dancing or singing along to some arts, nightlife and community events.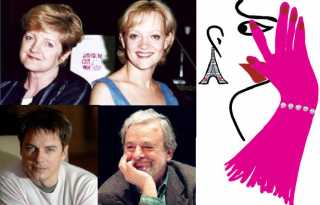 A 1997 recording of the full score of Stephen Sondheim and Arthur Laurent's cult favorite musical about corrupt politics, a miracle fountain and asylum inmates will be released on December 4, giving musical theater fans a new score to enjoy.
The new ABC thriller 'Big Sky' features a trans charactcer, 'Candyland' offers sweet silliness, 'Grey's Anatomy' confronts COVID-19, and more in our television column.
Actor and straight ally Henry Golding has become one of the most recognizable names and faces on film. In his latest independent feature, 'Monsoon' he plays a gay man returning to Vietnam.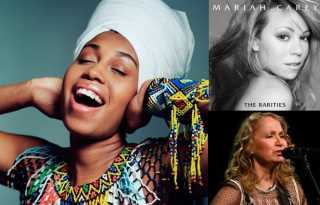 New music by Jazzmeia Horn, Suzzy Roche, Joan Osborne, Brandy, and -oh, yes- Mariah Carey, are reviewed, with music clips for your enjoyment.
Short films by nine Black queer, trans, and nonbinary emerging youth filmmakers will be streamed online, with a drive-in opening night at Oakland's Chabot Space & Science Center.
Imagine having a conversation with your favorite living British actors. 'For One Knight Only' will include Dame Judi Dench, Sir Derek Jacobi, Sir Ian McKellen and Dame Maggie Smith host Sir Kenneth Branagh in a fundraiser for UK theater workers.
Now that we're done dancing in the streets, settle back and watch some professionals dance, and sing and act, and even lip-synch, because queens gotta perform, too. Arts, Community and Nightlife events are the new normal.
Viewing 1 thru 12 of 275 Stories