Peaches Christ hosts Q&A with Barry Bostwick, Nell Campbell and Patricia Quinn
Viewing 1 thru 12 of 325 Stories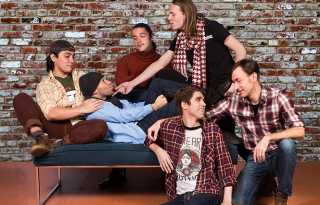 What can you learn from a painting? What can you give with your laughter, insight, observance and patronage? Find out at any of this week's arts events.
When Broadway star Kate Baldwin ('Finian's Rainbow,' 'Hello Dolly!') takes the stage at Feinstein's at the Nikko next weekend, you'll notice something unusual. The two-time Tony nominee's music director and accompanist is a woman, Georgia Stitt.
What if you went to a bar or nightclub you've never visited before? Would you feel nervous, self-conscious? Out of place? Disrupt the dress codes, and unspoken ageism and race codes at Bay Area bars and clubs. Be the unexpected.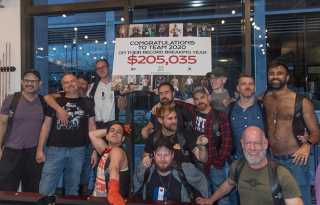 There's always a lot going on in the San Francisco Bay Area for leather and other kinksters.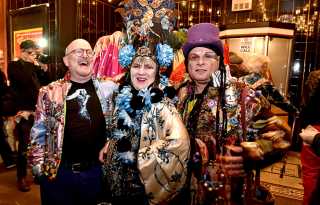 The 50th anniversary of The Cockettes was celebrated at the Victoria Theatre on Jan. 4 with hours of numbers from original Cockettes musicals, and other songs.
Now is the winter of our discoteque, or disco, but no techno. Anyway, shake a tail-feather to cool comedy, dancing bears and Bowie tributes.
Tony-nominated Broadway star and cabaret legend Sharon McNight returns to San Francisco, a city she once called home. The diva extraordinaire will be performing a very special show, Homecoming: The San Francisco Years, January 15 and 16 at Feinstein's.
Let's kick off 2020 with some new and classic arts events. Make a resolution to soak up more culture.
2020 started off brisk and witty with costumed 'polar bear' skaters taking to the ice in skivvies, onesies and winter-themed costumes on Jan. 1 at the Safeway Holiday Ice Rink in Union Square, which is open through Jan. 20.
Are you ready for a new year of nightlife fun? It's arriving, ready or not. Will our '20s be roaring with flappers and bootleg gin? Doubtful. More like floppers on TikTok and bootleg vapes. Either way, Happy New Year.
Let's kick off 2020 with some new and classic arts events. Make a resolution to soak up more culture.
Our prolific photographer Steven Underhill attended hundreds of events last year. Here are our favorites from 2019.
Viewing 1 thru 12 of 325 Stories