Nice packages: Sexy holiday gifts for a loved one, or yourself
Wednesday Dec 11, 2019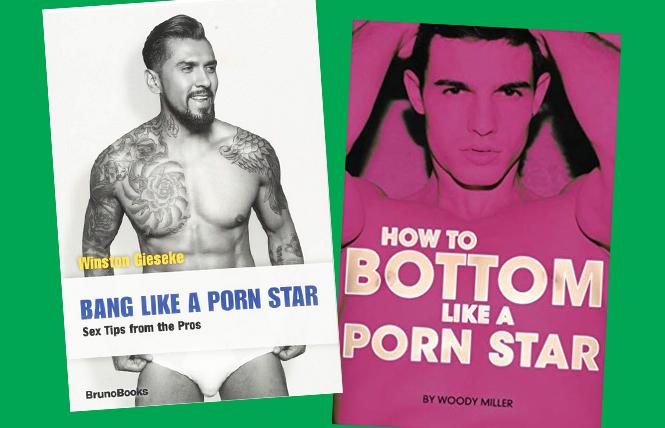 If you're like many people who want to improve their sex and love quotients in the upcoming year, I have been dispatched to provide the breakdown on where to get your inspiration and supplies to harness, execute and celebrate your ability to have an A-Plus sexual experience. Here are few selections for some gifts, whether hung by a chimney or wrapped up with care.

Bang Like A Porn Star: Sex Tips From The Pros by Winston Gieseke (Bruno Books) is one of the most brilliant books about gay male sexuality that I've ever read. Mr. Gieseke has interviewed a butt-load of gay male porn stars, asking their opinions around topping, bottoming, escorting, drugs, dating apps, male enhancement, PrEP, real sex vs. porn sex, cleanliness, kissing and, most importantly, but, unfortunately, unappreciated aspect of sexuality, emotional connections, even if only for a couple of hours.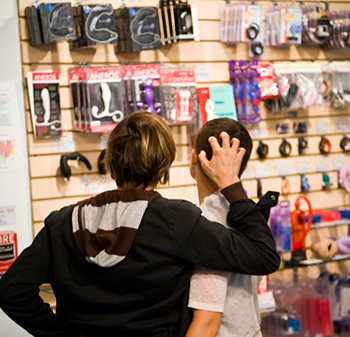 The difference between what these studs get and what many people don't want to understand is the true meaning of lights, camera, action. It is a requirement to earn your close-up (and in).
Deviant Otter, J.J. Knight, Bruce Beckham, Joey D., Bravo Delta, Dallas Steele, Rocco Steele, Diesel Washington, Rafael Alencar and many other porn studs are in their aggressive sexual peaks, and are very intent on exercising and expressing them.

From the book's cover image of Boomer Banks, serving underwear ad realness, and the great black and white images of the aforementioned men in all of their buck naked beauty, this book is just what the doctor ordered to put you "in the zone" for a great new year of sex and love.
I had to reach out to porn star par excellence Adam Killian (who, of course, is featured in the book) for the quote to 'top' the book.

Killian broke it down thusly:

"Be yourself, embrace your inner animal and recognize the beast within. Don't let fear stand between you and the things that you want. Most people don't get what they want because they're too afraid to ask, so don't be most people. Be you, enjoy you and let others enjoy you, too."
A fun companion book to this tome would be Woody Miller's How to Bottom Like a Porn Star.

In search of local retail options, off I went to Good Vibrations. It's upscale, high-end, big budget, 21st-century, and hot. The cherry on top of this emporium is its museum that contains a permanent exhibit of the history of the vibrator and other sexual devices. They also stage other special educational events to get you to the next level for your next sex episode. I walked out with a Fleshjack, after having a great time with the classy and sassy saleswomen.
Mission St. location, one of several. www.goodvibes.com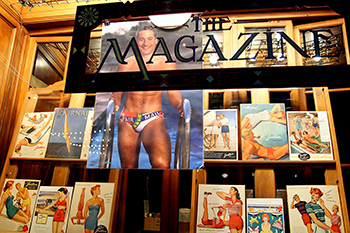 I hopped on my scooter and within minutes was at The Magazine bookstore.

As usual, I had a ball! It's truly another cultural landmark that is indicative of San /Francisco. It's a gay man's library for sale. Vintage Architectural Digest magazines? They've got 'em. Vintage issues of After Dark magazine? They've got 'em. Rare issues of French Vogue Homme? They've got 'em.

I have eavesdropped on conversations held by the owners with the two major publishing firms, Taschen and Universe. They call The Magazine bookstore to keep them supplied with source materials for their huge coffee table book editions on art, culture, entertainment and fashion.
Soon, The Magazine Bookstore will give their building over to The Bob Mizer Foundation. The late Mr. Mizer continues to be one of the most influential people in visual culture and human sexuality. Los Angeles made him, but the Bay Area gets to keep him.

I really scored at the bookstore, buying limited edition DVD sets of the films My Own Private Idaho and Apocalypse Now as well as season two of the groundbreaking television program Queer As Folk (US Edition). The Magazine 920 Larkin St. www.themagazinesf.com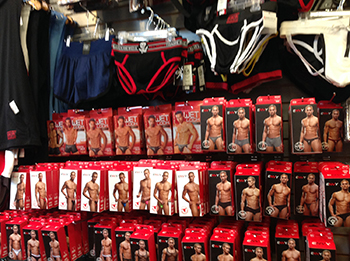 I trolleyed up to Castro Street to visit Rock Hard. Yes, indeed. I remember, a few years previous, having an impromptu photo shoot with porn icon Jon Galt. He was immediately recognized, as we walked in, and we were given instant permission. He stripped down and the joy went unrestrained. I got great images, too. Rock Hard has that heavy sex vibe. It's filled to the rafters with sex toys, dolls, lubricants and condoms. In short, the whole nine yards, to help you prepare yourself for the whole nine inches(or more). I didn't even try to resist buying an oxblood red leather fringe loincloth from them.
Rock Hard, 518 Castro St. https://rockhardsf.business.site/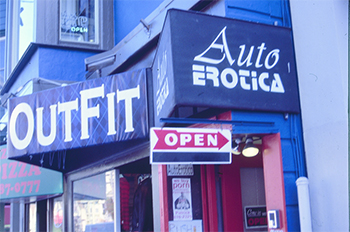 Giddy with joy-and that new leather smell, I walked across the street and fifty feet to Auto Erotica to get that late '70s gay lib homo-masculine vibe. It's just what San Francisco is about...or should be, sexually, socially, culturally. For fun stocking stuffers of vintage porn mags and DVDs, plus some classic vintage posters, take that flight of stairs up to the store.
Someone should create a documentary for the joint and its owner/operator, Patrick Batt. I had a long conversation with him about the evolution of gay male sexuality, and Mr. Batt has done it all, seen it all and still has a waistline under 31 inches.

His ultimate quote: "Don't be afraid to take a chance, and don't be afraid of the word 'no.' It seems like that moment of rejection does too much damage to men's self-esteem. Just be a man; keep trying."

I walked out of his store with excellent magazines and a new attitude about what I want to do and who I want to be. Auto Erotica 4077 18th St. (415) 861-5787. www.twitter.com/autoeroticasf

In conclusion, the pattern may have emerged that I've visited these wonderful places, had some wonderful cultural experiences and I purchased products that made me feel great and rarin' to go. Visit these places. Purchase items. Support gay-owned businesses and feel good about it.
Comments on Facebook