On September 27 and 28, Broadway baby Frances Ruffelle brings her show Frances Ruffelle Live(s) in New York to the elegant stage of Feinstein's at The Nikko, a show she performs monthly at Feinstein's in New York.
Viewing 1 thru 12 of 1269 Stories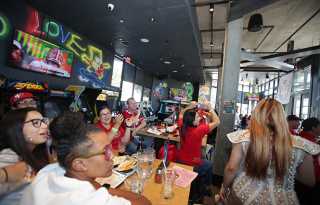 A San Francisco 49ers football Pride watch party at The Detour in the Castro District featured the 49ers vs. Bengals game, which was shown Sunday Sept. 15 at The Detour.
Cast members from the touring production of Hamilton sang an array of songs themed Protest: Revel with Some Rebels, at the benefit on Sept. 16, with proceeds going to the Richmond/Ermet Aid Foundation and Broadway Cares/Equity Fights AIDS.
Fun is where the heart is, and musicians, cabaret acts and queens all over the bay gear up to entertain your nightlife desires.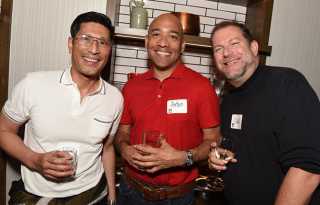 MAX held a First Friday cocktail meet & greet at Eclipse Bar in the Hyatt Regency San Francisco on Sept. 6. The social group for gay men and their friends goes back to 1988, and continues to welcome new members at frequent social events.
We haven't had a good wedding announcement in a while, and the betrothal of Carlos Diaz and Joseph Copley included seaside views, and dance and nightlife community fabulousness.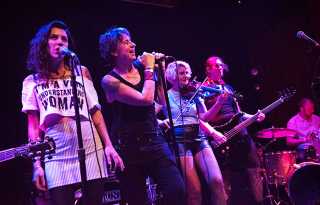 With any luck, your Friday (13th!) will be full of fun, not fear. Superstitious? Plan nightlife fun on other nights.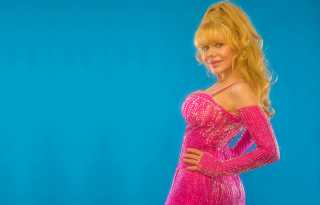 On Friday September 20 the incomparable legendary Charo returns to San Francisco for an evening of music and 'cuchi-cuchi' at the Herbst Theatre.
A wine-tasting evening at The Academy, held Friday, August 30, included tips on tasting from sommelier Michael Wells. On the airy back patio, guests enjoyed sipping various wines while learning more about different vintages and kinds of wines.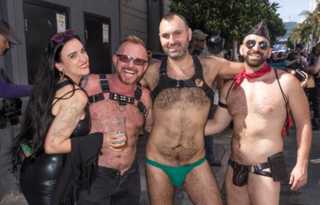 in considering 'meaning' as a core need, I've reflected on all we do and are as LGBTQ kinksters. Puncture the veneer of the superficial armor of our displayed sexual proclivities; the most satisfying are founded upon a sense of meaning.
Yummy beats, tasty drinks, delicious dancers, are all on your nightlife menu.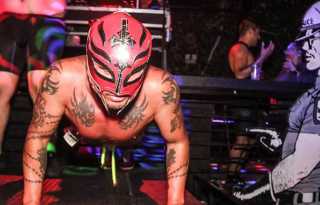 Meet & greets, spanking parties, beer busts and dance nights; there's always a lot going on in the San Francisco Bay Area for leather and other kinksters.
Morgxn appears at the Rickshaw Stop on September 12. That "x" marks the spot on his lifeline when he decided to own his vulnerability as part of his creativity, just a few years ago.
Viewing 1 thru 12 of 1269 Stories