The publication of "Have You Seen This Man? The Castro Poems of Karl Tierney" re-introduces the long-silenced voice of a local writer.
Viewing 1 thru 12 of 1271 Stories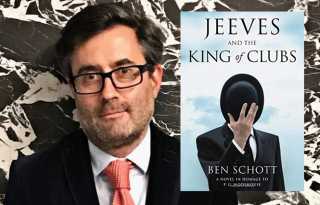 A new "Jeeves" novel is always an event in Out There's reading life, even if it's not one written by P.G. Wodehouse.
It doesn't matter if you have perfect vision or if you need to slip on a pair of reading glasses, the following books to be released in early 2020 deserve to have your eyes on them.
Although the plot unfolds unhurriedly but engagingly, it's the characters in Michael Craft's "ChoirMaster" that shine.
Garth Greenwell's new story collection, "Cleanness," includes a raw account of an internet-initiated S&M hookup so minutely observed that readers seeking porn only will avert their eyes.
Author Gary Janetti cleverly channels his Hollywood entertainment acumen into "Do You Mind If I Cancel?," a new collection of personal essays.
There's so much to appreciate in Tash Aw's new novel "We, the Survivors" that a deep plunge into its contents might overlook how remarkable the writing is.
"The Letters of Cole Porter" weighs in at over 650 pages with notes, but it's really meant to be read in toto only by scholars and Porter completists, so the general reader can feel okay about selective skipping.
I don't at all restrict my reading to LGBTQ authors and topics, but I could have in 2019 and still had an extraordinary reading year.
Among LGBTQ people, Ian McKellen is almost God.
A follow-up to Carly Simon's acclaimed 2015 memoir "Boys in the Trees," "Touched by the Sun: My Friendship with Jackie" (FSG) is an intimate, affectionate portrait of the singer-songwriter's comradeship with "Jackie" Bouvier Kennedy Onassis.
For a happily childless adult, Out There sure does see a lot of "family friendly" theatre and entertainment appropriate for children.
"We became inseparable," Robyn Crawford candidly admits in "A Song for You: My Life with Whitney Houston," even while her churlish mother Cissy, the most evil presence in the entire book, disapproved.
Viewing 1 thru 12 of 1271 Stories