Roll up for fall arts events in theatre, music, dance and museums.
Viewing 1 thru 12 of 11564 Stories
"Billy Budd," Herman Melville's unfinished allegory of innocence and guilt upon a British war ship, deeply examined by composer Benjamin Britten and librettists E.M. Forster and Eric Crozier, is the second offering in San Francisco Opera's fall line-up.
B-52s lead male vocalist Fred Schneider was kind enough to answer a few questions before the band embarked on a multi-city concert tour.
"Caroline, or Change" is more than the title of Tony Kushner and Jeanine Tesori's ingenious sung-through musical, now playing in a not-to-be-missed Ray of Light Theatre production. It's an aphorism we'd be well to heed.
If you're a fan of fast-talking, morally complicated characters, don't miss playwright Ike Holter's "Exit Strategy," a bristling ensemble drama now in its Bay Area premiere at the Aurora Theatre Company.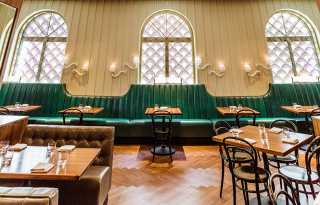 Now that the fall theatre season has begun in earnest, the search is on to discover new places to go to dinner close to San Francisco's downtown theatres.
The 32-year-old Igor Levit, three of whose four commercial releases for Sony have included Beethoven, has just seen the release of "Beethoven: The Complete Sonatas," all 32 of them.
Just released for the first time on Blu-Ray by Kino Lorber, Merchant-Ivory's "Jefferson in Paris" can now be reevaluated in time for its 25th anniversary.
If you come away liking "The Goldfinch," a lavishly mounted art thriller adapted from Donna Tartt's 2013 Pulitzer Prize-winning novel, as I did, thank the casting gods.
In director Justin Chon's melancholy but moving drama "Ms. Purple," a young Korean-American woman's world comes unraveled.
Newly out on DVD, Donna Zaccaro's documentary "To a More Perfect Union: U.S. v. Windsor" is a short, succinct explanation of the legal battle fought by Edie Windsor.
Avery, one of the three movie-theater workers at the heart of "The Flick," has trouble explaining why he so strongly objects to the impending replacement of the decrepit single-screen cinema's 35mm projector.
New shows, exhibits, operas, concerts and more are ready and open for your arts patronage.
Viewing 1 thru 12 of 11564 Stories