Former Smuin company dancer Rex Wheeler, a.k.a. Lady Camden, is rehearsing the lead role in "Santa Baby," a work created by late company founder Michael Smuin that will be the centerpiece of "The Christmas Ballet" LGBTQ+ Night on Thurs., Dec. 19.
Viewing 1 thru 12 of 11697 Stories
Plays, musicals, art exhibits and concerts are already unwrapped and waiting for your childlike joy.
Philharmonia Baroque Orchestra and Chorale (PBO) and departing Music Director Nicholas McGegan made a warm-hearted gift to the holiday season last week with performances of Handel's stirring oratorio "Judas Maccabaeus."
Among LGBTQ people, Ian McKellen is almost God.
The heartfelt welcome for incoming Music Director Designate Eun Sun Kim from the San Francisco Opera company, board, orchestra, stage crew and members of the press last Thursday could not have been more excited or sincere.
It might seem impossible, but last week's "The Future Is Now: 2019 Adler Fellows Concert" at Herbst Theatre was more special than ever.
At the Castro Theatre the other night I watched actors Eddie Redmayne and Felicity Jones soar into the sky over jolly old England, circa 1862, in the breathtaking new Amazon Studios feature "The Aeronauts."
"Harry Potter and the Cursed Child" is now playing an open-ended run at the Curran Theater in its first North American production since opening on Broadway last year.
"Summer" has arrived at the Golden Gate Theatre, and with it a bumper crop of corn.
A follow-up to Carly Simon's acclaimed 2015 memoir "Boys in the Trees," "Touched by the Sun: My Friendship with Jackie" (FSG) is an intimate, affectionate portrait of the singer-songwriter's comradeship with "Jackie" Bouvier Kennedy Onassis.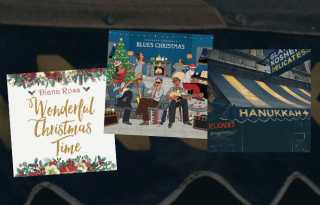 Welcome to the 2,373rd annual installment of our holiday music survey, filled with goodies for the good, the bad, and the naughty.
Celebrate holiday talents, wintry arts and more this week.
The San Francisco Gay Men's Chorus is riding high, preparing to celebrate the holiday season as they bring their annual extravaganza to the Sydney Goldstein Theater, followed by three Christmas Eve performances at the iconic Castro Theatre.
Viewing 1 thru 12 of 11697 Stories